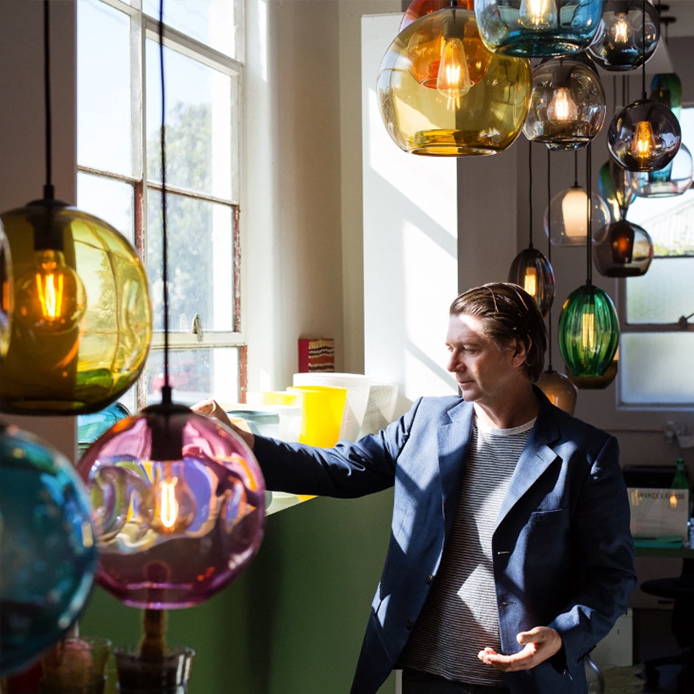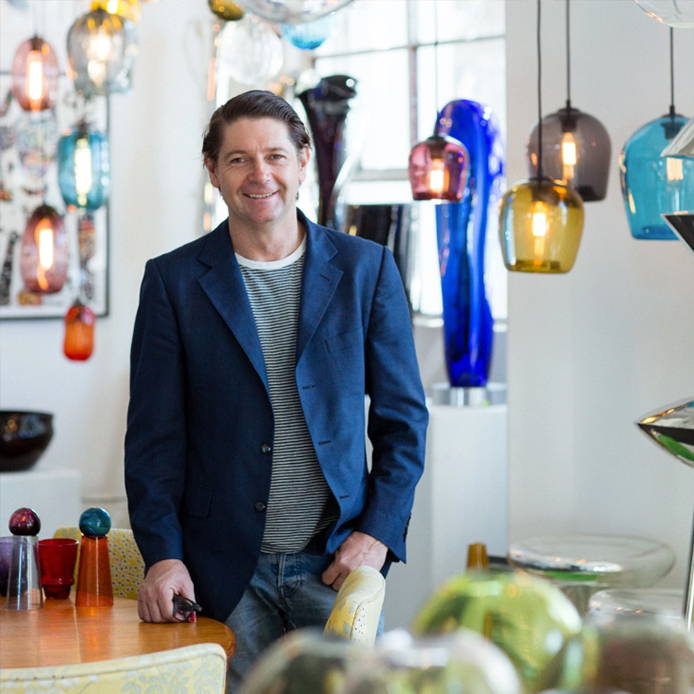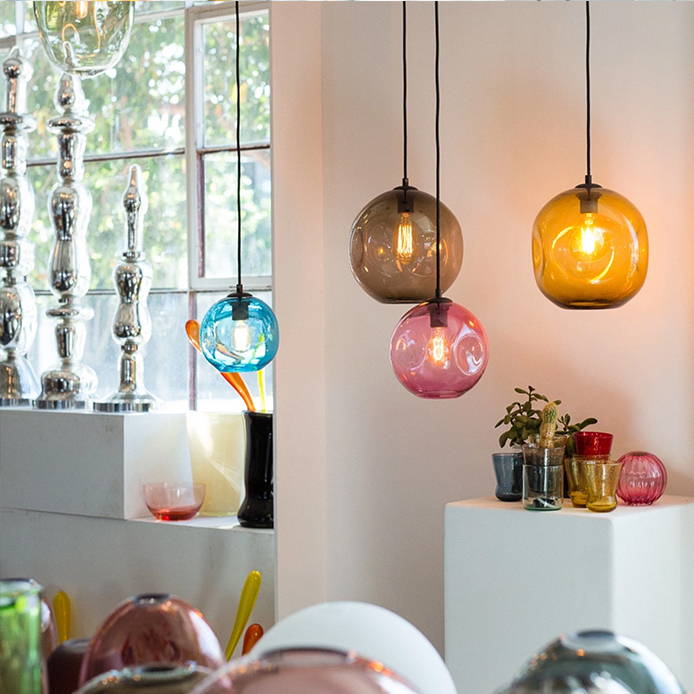 Amy Grenfell / Glass Blown Pendants / Published February 17 2020
About The Australian Artisan
Launching his practice in 1992 in Prahran, Mark is a respected veteran of the glass making community. Running a prolific glass studio, crafting hand-blown glass items like vases for homes to custom-made globes for businesses and large glass lighting installations for restaurants, hotels and residential developments.
In 2012, he was awarded a prestigious Churchill Trust Fellowship in recognition of his body of work and contribution to the Australian glass design industry. Somewhere amongst his impressive 20+ years in the industry, Mark has also taken on various entrepreneurial creative side projects, from fine art, to fashion and hospitality, but in recent years he has come full circle, returning to his roots, and focussing exclusively on the design and manufacture of bespoke lighting and glass pieces. His stunning work can be seen in many high profile homes and establishments across Melbourne, and further afield.
Mark has managed to turn his love of glassblowing into a thriving enterprise recognised globally. His practice is extremely varied - a big part of his studio output is consumed with large scale architectural / design commissions, he also designs his own range of lighting and interior products available 'off the shelf', and he still creates one off glass artworks for exhibition both locally and abroad. His large scale commissions in recent years and varied projects are juggled with enthusiasm, propelled by Mark's uncanny knack for balancing his tireless creative spirit with the necessary business acumen required to keep everything afloat!
"When you are buying a piece of art, you're actually buying a little bit of that person as well, so it makes sense that people want that engagement."
- Mark
---
What would be your dream creative project?
I would like to design a multi story building and live in part of it. I like the idea of having a great bar downstairs, creative spaces, apartments and a roof garden. Don did it at the Dog's Bar and Tim Peach has done it at Curtin House. These are both old buildings. I would like to do a new one.
I enjoy sketching up ideas even if they are never built. I have also been designing my ultimate transportable glass studio, and started making it out of shipping containers. To be able to blow glass with the general public would be great. I think they'd get a kick out of watching the process.
Which other local artists, designers or creative people are you liking at the moment?
I have been working with Pascale Gomes-McNabb on Penfolds in South Australia, Yellow and Monopole in Sydney. She has an amazing eye and vision to be able to imagine a complete interior, with complex details that eventually work so well together. She's very talented, being in hospitality she knows how things need to function.
I have also worked with Mim Design and admire their work. They have a great approach to interiors, with a focus on simple aesthetics using great materials.
I also share a studio and show some of Melma Hamersfeld's work. I have known her for years, she was a great client and now friend, who has reinvented herself after selling her company Metalicus, and focusing on he artwork.
Can you list for us your top 5 resources across any media that you turn to regularly for creative inspiration?
I do follow blogs - The Design Files, Houzz, Pinterest, Share Design.
Books are great. I found allowing time to visit other people's book collections enables you to see books that are hard to find.
I gather screen shots and use my phone a lot to take snaps. I love Dropbox.
I also find most of my inspiration when travelling. Being stuck on a long flight lets me draw a lot.
"My rule of thumb with artwork and aesthetic is to make it then walk away. Close your eyes and turn around. When I open my eyes and see a finished piece for the first time, I will follow my gut reaction, which will usually lead me to decide if I need to paint over something, rearrange a setting, or add and subtract from an installation or composition. I generally advise the client to follow their first reaction too."
- Mark