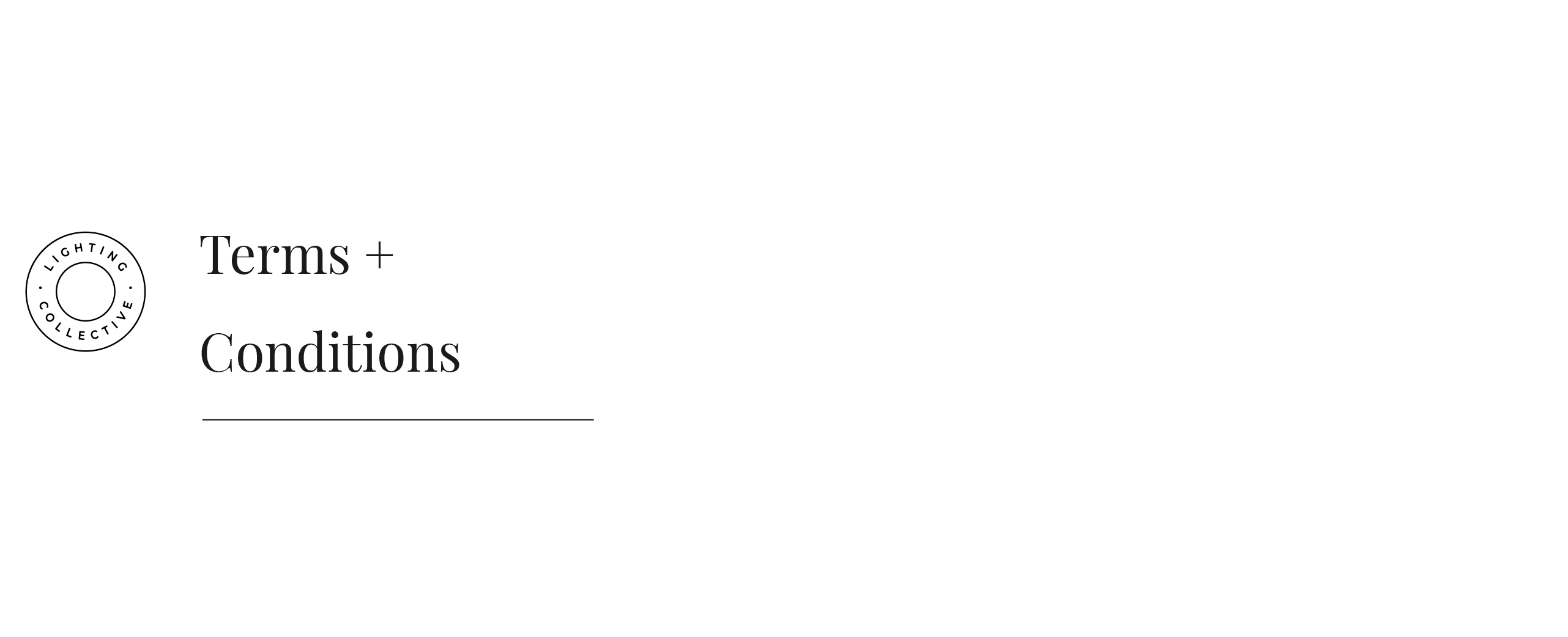 Thank-you for shopping with Lighting Collective. Our aim is to provide outstanding customer service, unique products and an easy shopping experience. Welcome to our store and thank you for choosing the Lighting Collective.
Refunds & Returns 
Faulty goods must be notified to our team within 48 hours and are processed in accordance with the manufacturer's warranty which will usually be supplied with the product. If the warranty details are not supplied please email info@lightingcollective.com.au and we will forward you the link to the relevant manufacturer warranty process. Please note, any electrical fitting must be installed by a qualified electrician and all warranties request will require evidence of such electrician.
In the unlikely event the product is faulty and the fault cannot be rectified under the manufacture warranty we will offer a complete exchange or if we are unable to exchange for same or similar we will offer a full refund.
Damaged goods must be notified to our team within 48 hours of receiving the product. Please make sure you open you package when it arrives to inspect carefully. Please email clear images of the damages with a written description of the damages to info@lightingcollective.com.au  If the products are deemed damaged in transit we will either arrange repair (when relevant) arrange replacement or if replacement is not available and the product is unusable offer a full refund. If the product is deemed partially damaged but still usable we may offer a partial refund within reason.
Change of mind / Incorrect order - Please choose carefully as we do not always allow refunds if you change your mind or order incorrectly. We ask you check the specification carefully to enable you to choose the correct size, colour and other specification. At Lighting Collective we carefully curate the best light fittings from all over the world. Therefore we often order your light from an international supplier, which is not stocked in Australia so sometimes we cannot refund you if you simply change your mind. In the event you do make a mistake we will exchange your lights, if notified within 30 days of receiving the order, however due to the above reasons and others there is a 20% restock fee. Please send the returning items at your own expense back to us and we will issues you a credit note for the remaining price of the product and/or assist you in finding an alternative option.
Sale Items unless damaged or faulty these are final. Please choose carefully as under no circumstance do we accept exchange or refund on a sale item.
If there has been an error or you have received the wrong products
We are very sorry, please email us a detailed explanation with photos to info@lightingcollective.com.au within 48 hours of receiving your order. We will promptly reply with a solution. Upon receipt of your product, and before installation, please ensure the product fits the description and image on our site. In the event of any discrepancies, please do not proceed to installing the product. We ask that you contact us immediately so that we may arrange the appropriate refund or replacements. Any costs associated with uninstalling products with design or colour flaws are not reimbursed by Lighting Collective.
Privacy Policy
Collection of Personal Information - What do we do with it?
The information you provide for the purpose of completing your order is only used to fulfil your order. Personal information collected during our sales process includes your name, address and email address. Sharing of this information will be limited to partners or third parties who are integral to the order fulfilment process (courier companies, suppliers of custom made items).
Lighting Collective employs various services to monitor our website performance and visitor browsing characteristics. When browsing our store, we automatically receive your computer's internet protocol (IP) address. This information is aggregated and analysed to determine how the content provided (website, blog, newsletters, promotions) may better match visitors' needs.
Anyone who participates in interactive activities (contests, membership programs, message boards, purchases, newsletter subscriptions, surveys etc.) may be asked to provide information. This information may be used to communicate promotional offers or related information about our company, our partners and relevant third parties. Furthermore that information may be used to design the marketing messages received by the recipients.
Consent - How do you get my consent?
When you provide us with personal information to complete a transaction, verify your credit card, place an order, arrange for a delivery or return a purchase, we imply that you consent to our collecting it and using it for that specific reason only. As stated above, for secondary reasons, like marketing, we will either ask you directly for your expressed consent, or provide you with an opportunity to say no.
If you change your mind, you may withdraw your consent for us to contact you, for the continued collection, use or disclosure of your information, at any time by contacting our Privacy Compliance Officer at info@lightingcollective.com.au or mail us at:

Lighting Collective
[Re: Privacy Compliance Officer]
1/80 Centennial Circuit
Byron Bay, NSW
2481
Disclosure
Information about individuals will not be disclosed without consent, except where required by law.
Security & Payments
To protect your personal information, we take reasonable precautions and follow industry practices to best ensure it is not inappropriately lost, misused, accessed, disclosed, altered or destroyed.
Our website is hosted on Shopify Inc. They provide us with the online e-commerce platform that allows us to sell our products and services to you. Your data is stored through Shopify's data storage, databases and the general Shopify application. This data is safely stored by Shopify on a secure server behind a firewall.
If you provide us with your credit card information, the information is encrypted using secure socket layer technology (SSL) and stored with a AES-256 encryption. Although no method of transmission over the Internet or electronic storage is 100% secure, we follow all PCI-DSS requirements and implement additional generally accepted industry standards.
If you choose a direct payment gateway to complete your purchase, then Shopify stores your credit card data. It is encrypted through the Payment Card Industry Data Security Standard (PCI-DSS). Your purchase transaction data is stored only as long as is necessary to complete your purchase transaction. After that is complete, your purchase transaction information is deleted.
All direct payment gateways adhere to the standards set by PCI-DSS as managed by the PCI Security Standards Council, which is a joint effort of brands like Visa, MasterCard, American Express and Discover.
PCI-DSS requirements help ensure the secure handling of credit card information by our store and its service providers.
For more insight, you may also want to read Shopify's Terms of Service (https://www.shopify.com/legal/terms)
or Privacy Statement
(https://www.shopify.com/legal/privacy).
Third-Party Services
As stated above, Lighting Collective limits the sharing of information to partners or third parties who are integral to the order fulfillment process (courier companies, suppliers of custom made items)
Please note that sites linking to www.lightingcollective.com.au may have different privacy policies. Lighting Collective will provide links to third party sites that may have different privacy policies in our communications (website, blog, newsletters, surveys).
Once you leave our store's website or are redirected to a third-party website or application, you are no longer governed by this Privacy Policy or our website's Terms of Service
Certain third-party service providers, such as payment gateways and other payment transaction processors, have their own privacy policies in respect to the information we are required to provide to them for your purchase-related transactions.For these providers, we recommend that you read their privacy policies so you can understand the manner in which your personal information will be handled by these providers.
Cookies
Cookies can be used to improve your experience whilst shopping (by remembering what was in your cart between visits). A cookie is a small data file that is sent to and shared with your computer. You can control the use of cookies via the settings on your browser.
Here is a list of cookies that we use. We've listed them here so you that you can choose if you want to opt-out of cookies or not.
 _session_id, unique token, sessional, Allows Shopify to store information about your session (referrer, landing page, etc).
_shopify_visit, no data held, Persistent for 30 minutes from the last visit, Used by our website provider's internal stats tracker to record the number of visits
 _shopify_uniq, no data held, expires midnight (relative to the visitor) of the next day, Counts the number of visits to a store by a single customer.
cart, unique token, persistent for 2 weeks, Stores information about the contents of your cart.
_secure_session_id, unique token, sessional
storefront_digest, unique token, indefinite If the shop has a password, this is used to determine if the current visitor has access.
Changes to this Privacy Policy
Lighting Collective reserves the right to modify this privacy policy at any time, so please review it frequently. Changes and clarifications will take effect immediately upon appearing on the website. If we make material changes to this policy, we will notify you here that is has been updated, so that you are aware of what information we collect, how we use it, and under what circumstances, if any, we use and/or disclose it
Questions and Contact Information
If you have any questions regarding privacy, or if you would like to: access, correct, amend or delete any personal information we have about you. Please contact our Privacy Compliance Officer at info@lightingcollective.com.au or mail us at:

Lighting Collective
[Re: Privacy Compliance Officer]
1/80 Centennial Circuit
Byron Bay, NSW
2481
Lighting Collective seeks to comply with Australian privacy laws. For more information about the National Privacy Principles, see the Federal Privacy Commissioner's website: http://www.privacy.gov.au 
Order Acceptance Policy 
Your receipt of an electronic or other form of order confirmation does not signify our acceptance of your order, nor does it constitute confirmation of our offer to sell. Lighting Collective reserves the right at any time after receipt of your order to accept or decline your order for any reason. All orders placed must obtain pre-approval with an acceptable method of payment, as established by our credit and fraud avoidance department. We may require additional verifications or information before accepting any order.
 
Terms of Use Agreement 
The use of this store is governed by the policies, terms and conditions set forth below. Please read them carefully. Your use of this store indicates your acceptance of these terms and conditions. Your placement of an order indicates your acceptance of these terms and conditions. Your submittal of any purchase order to Lighting Collective indicates acceptance of these terms and conditions. These terms and conditions shall supersede any subsequent terms or conditions included with any purchase order, whether or not such terms or conditions are signed by Lighting Collective. Lighting Collective reserves the right to make changes to this store and these terms and conditions at any time. By ordering on Lighting Collective you grant us the right to add your contact details to our database. From time to time we may contact you about offers and new products. You can easily be removed by either unsubscribing via a link or contacting our Customer Service at info@lightingcollective.com.au and we will remove you from marketing communications.
 
Liability 
Lighting Collective is not liable for any losses or damages caused by this store or any store linked to or from it. We reserve the right to refuse any order without giving reason. Upon cancellation of an order we will make all reasonable attempts to contact you using the details provided. All received monies will be refunded using the method received.
 
Acceptance of the Goods 
The buyer is responsible for inspecting the goods for fault and notifying us within 5 working days of receiving the goods should there be a fault.
 
Legal Capacity to Transact 
If you are under 18 years of age, you cannot order via the Lighting Collective website without parental permission.
 
Should we suffer any losses as a result of a transaction by a minor using Lighting Collective website, we reserve the right to seek compensation for such losses from the parents or guardians of the under aged individual.
 
Warranties 
All warranties offered are the manufacturer's warranties and not that of Lighting Collective.
 
Change of Address 
Lighting Collective cannot be held responsible for an incorrect address being entered on your order. Address Confirmation is given on the review & buy page in the checkout section of the site. If this is not noticed until after your order is finalised, please contact Customer Service immediately. We will attempt to update any incorrect order details, however due to the fast turnaround of our warehouse, some orders cannot be adjusted.
 
Payment 
We accept VISA, Mastercard, PayPal or Direct Deposit.
Orders are processed the next business day after payment is received excluding NSW Public Holidays. For orders placed for European products that take four to six weeks to dispatch orders will be sent the next business day after we are in possession of the goods. Please retain your tax invoice as proof of purchase which is required for any warranty claims.
Products, availability & assembly
Due to popularity or interruption of supply, some items may be unavailable or out of stock. In the event that an item is not available and will exceed our recommended delivery time we will contact you to let you know the soonest expected time of arrival. Delivery for some items that we import or may have manufactured to order will exceed the general estimated delivery time. Check the item listing for extended lead times.
 
Typographical Errors 
In the event a product is listed at an incorrect price or with incorrect information due to typographical error or error in pricing Lighting Collective shall have the right to refuse or cancel any orders placed for product listed at the incorrect price. Lighting Collective shall have the right to refuse or cancel any such orders whether or not the order has been confirmed and your credit card charged. If your credit card has already been charged for the purchase and your order is cancelled, Lighting Collective shall immediately issue a credit to your credit card account in the amount of the charge.
 
Links 
This store may contain links to other sites on the Internet that are owned and operated by third parties. You acknowledge that Lighting Collective is not responsible for the operation of or content located on or through any such site.