Designer Spotlight | La Palma by YSG Studio
YSG Studio create inspiring fusions of unusual pairings, that radiantly capture the essence of travel and outdoor lifestyles. Their recent interior project, La Palma, celebrates sun-kissed Mediterranean coasts and the vibrant ambience of Mexico, creating a captivating blend of influences. YSG's unique use of vibrant citrus bursts and earthy textural elements breathes life into the home, seamlessly blurring the lines between indoor and outdoor spaces, allowing them to coexist in perfect resort style harmony.
Embracing the spirit of Summer all-year round, this eclectic design offers playful interiors, adorned with invigorating patterns and colourful custom furnishings. The space encourages guests to escape, unwind, and savour a holiday experience from the comfort of their own home. Enhancing this welcoming atmosphere, is the carefully considered sculptural lighting selection, evoking aesthetic enquiry by day, and casting a soft, golden glow by night.
Lighting is a mood mover and shaker.
It's always highly considered and never an afterthought for us
    - Yasmine Ghoniem, Director of YSG Studio
What do you look for when considering lighting for projects?
Two things: Sculptural Pieces that stand out on their own during the day when they're switched off because they spark aesthetic enquiry, plus the way the light they emit can cast shadows and pool mellow concentrations of golden glows (never white) across walls. Lighting is a mood mover and shaker It's always highly considered and never an afterthought for us.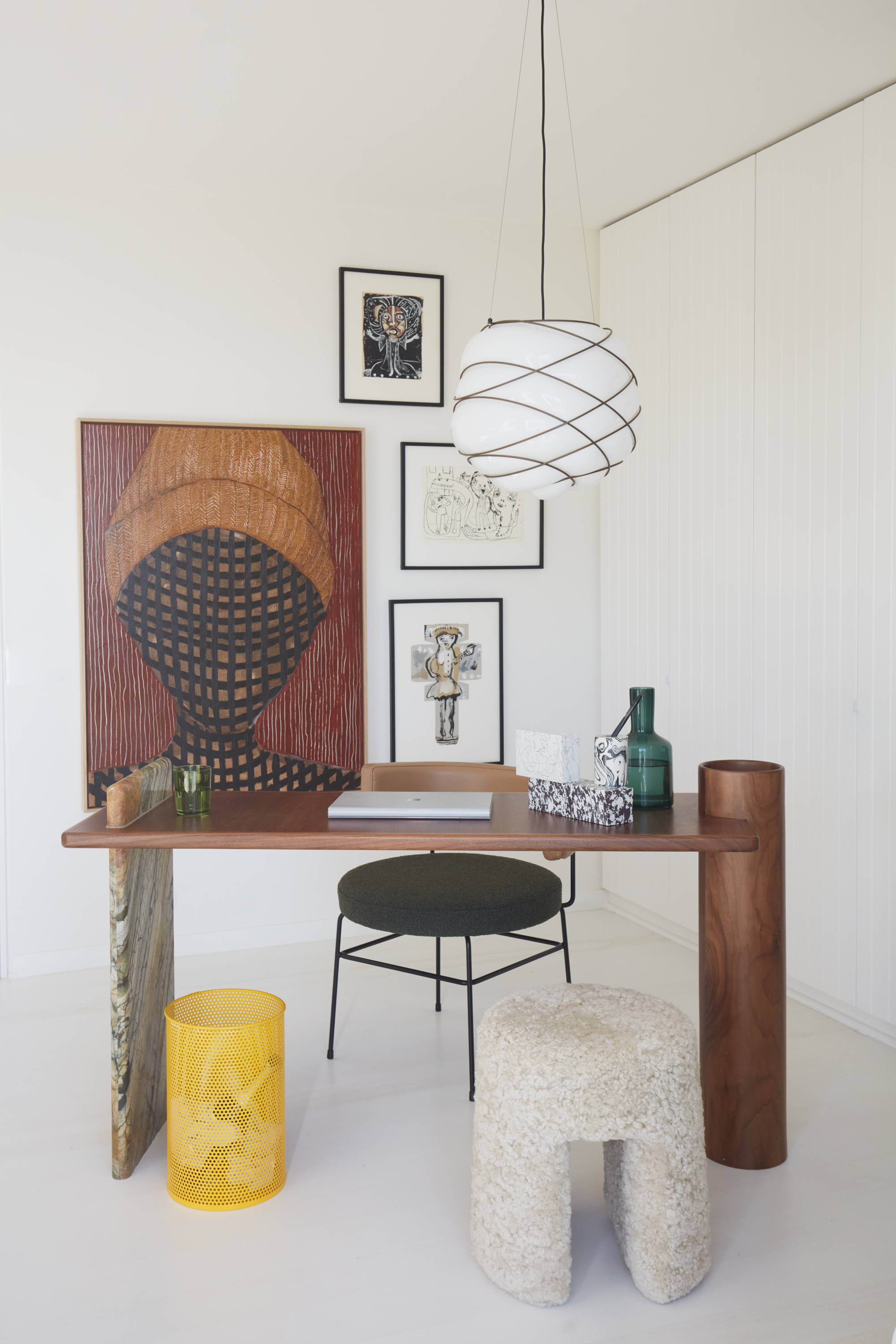 WHAT was your must-have piece or feature within the space?
Given the place is a beach house for a busy Sydney family, the primary ensuite needed to have indulgent resort feels - the kind you could escape within and relax in there for ages to unwind. Transforming it from a cold, white-tiled shell with enclosing doors, nature is the star in this space, from the tumbled marble checkered pavers that give it a Mexican vacay vibe to the stunning Tiberio marble, and of course, all the natural light bounding in from the balcony and shower window. We clad an outdoor bath in matching marble to extend the bathroom's footprint. It's the perfect spot to sip on a drink come sunset and watch the day gently transition to night.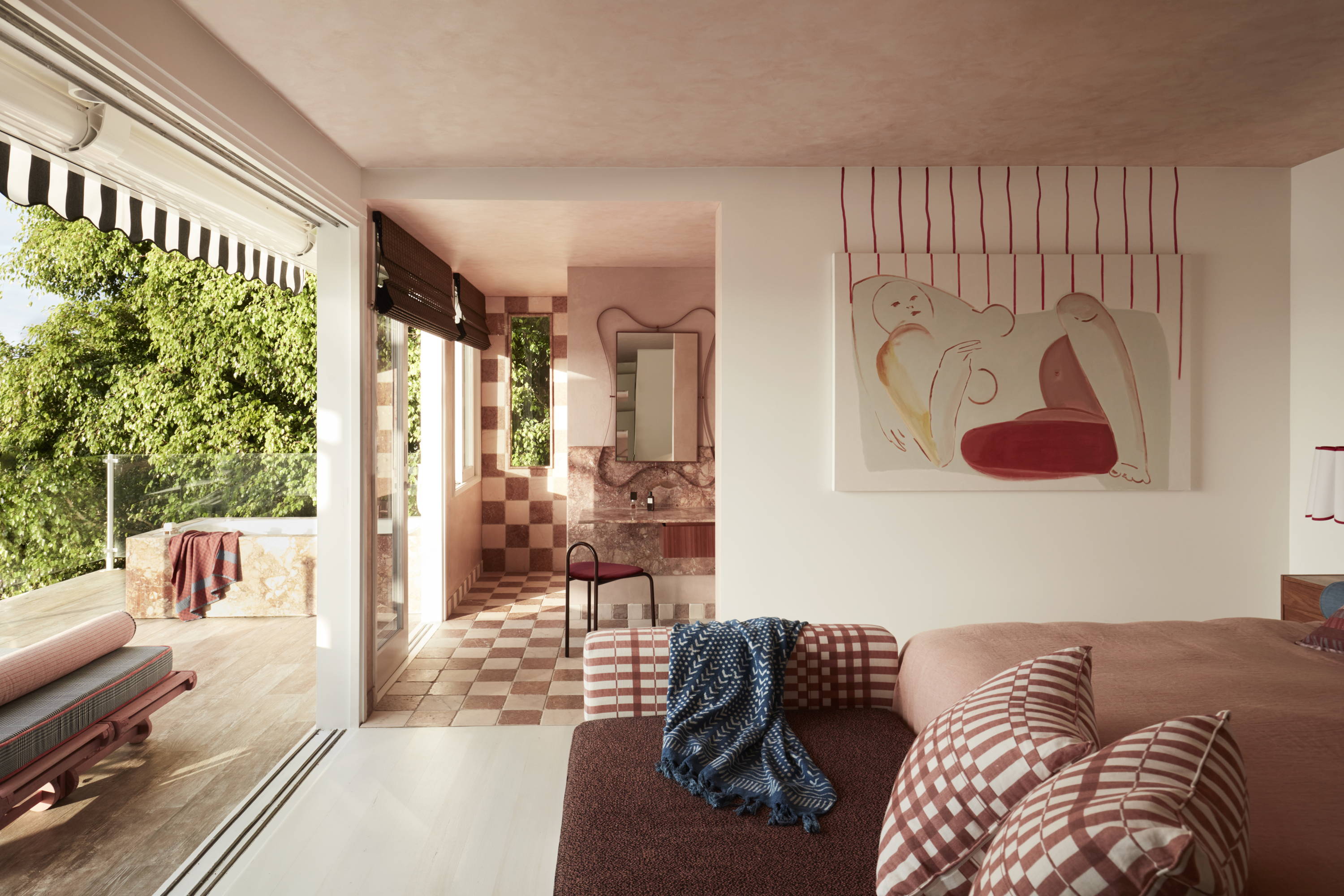 how have you used lighting? Why these Pieces, what is their purpose? what mood do they help create?
The Murano glass pendant in the master suite's work alcove has a dreamy cloud-like presence, like a floating bound cotton ball. I should note that the desk looks out across the beautiful Pittwater. So if you've got to work whilst you're staying up there, this surely makes the task inspirational.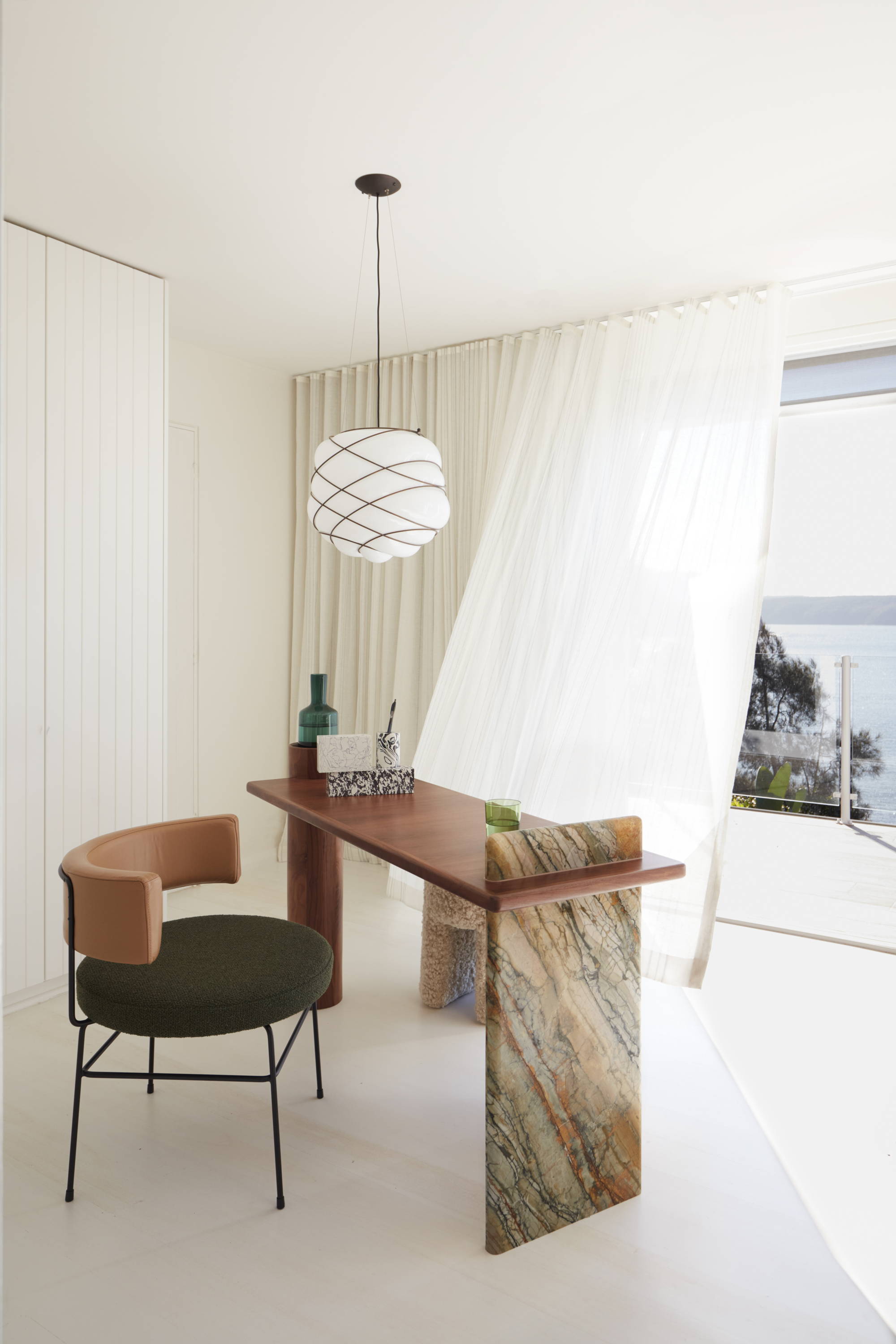 how do you continually find new inspiration?
Travel. Always travel- the colours, the smells and tastes, intricate architectural details that inform custom furniture designs, plus textures and materials that inspire unusual pairings. This year I've been fortunate enough to hit the airways regularly to check progress on YSG sites. Destinations have included The Middle East, France (where I spent the bulk of my time in Paris sourcing unique pieces for a project and had a blast connecting with the team behind Uhronia), plus Indonesia a few times to check on a new hotel we're working on which will become a rendez-vous for creatives craving an otherworldly escape. I also jetted to Uruguay where we're working on another hospitality venture.
What exciting things do you have on the horizon?
Surprise, surprise, travel! Japan is next and then Mexico for a vacation at the end of the year. By that stage I'll be ready to cast my gaze into a large margarita glass and drown in contentment! In early '24, I'll be featuring in an exciting launch which I can't reveal just yet. Let's just say I'll be entering a lot of households...
Is there a dream project or space you hope to one day transform?
Right now it's my home. My husband and I purchased it over a year ago and I'm currently manifesting the big reno. The bones are great in that it has some exposed open levels and a mezzanine, plus heaps of natural light, but the kitchen and bathrooms need overhauls and the walls and ceilings (always a consideration in a YSG project) need to be coated in some invigorating colours - some French washes or velvety Marmorino finishes. Every light will be replaced and more will be added too. Whatever's not custom YSG furniture would include vintage pieces sourced in Europe plus a few eclectic items from some favourite designers like mis-matched chairs by Polina Miliou. A mix of genres, it'll be my urban utopia.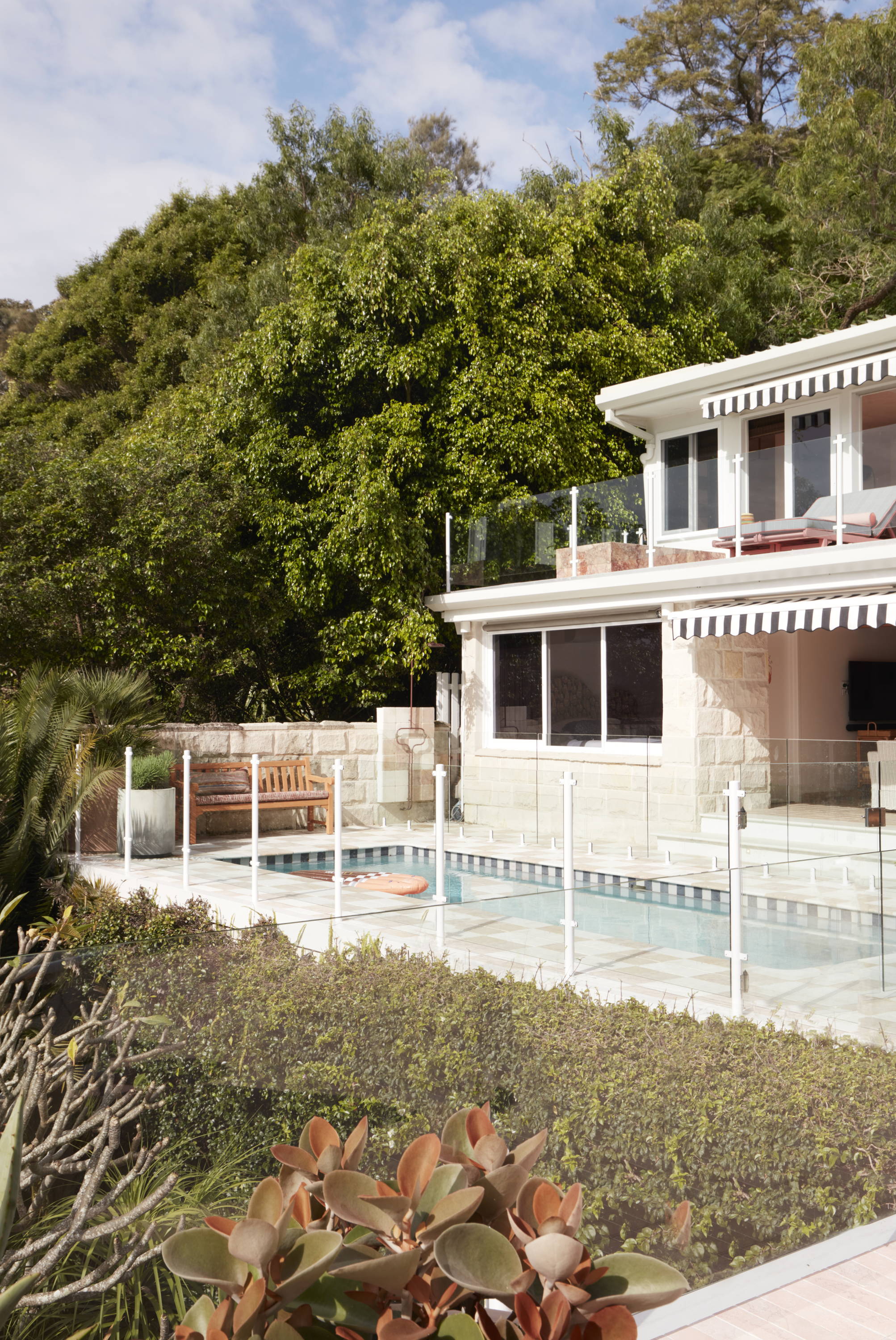 Project: La Palma designed by YSG
Photography: Prue Ruscoe (@prueruscoe)
Builder: Promena Projects (@promenaprojects)
---