Meet The Maker | We Ponder
Showcasing the skills, care and dedication of Tasmanian craftspeople.
We met with Rose, the designer of We Ponder to learn more about the intention behind "nurturing and celebrating nature's inconsistencies".
How did We Ponder begin?

I started my career as an Interior Designer based on the Gold Coast in 2015, designing mainly residential new build projects and a handful of commercial spaces. During the design process with clients, selecting lighting was one of the most difficult tasks. Our interior design clients also wanted their spaces to not necessarily fit a particular theme or design era, so to find lighting that wasn't a distinct style was extremely difficult. That is where the idea to create lighting from Australian clay started. We needed to create something that was simple, timeless yet still with personality that stood out as a talking point in a space.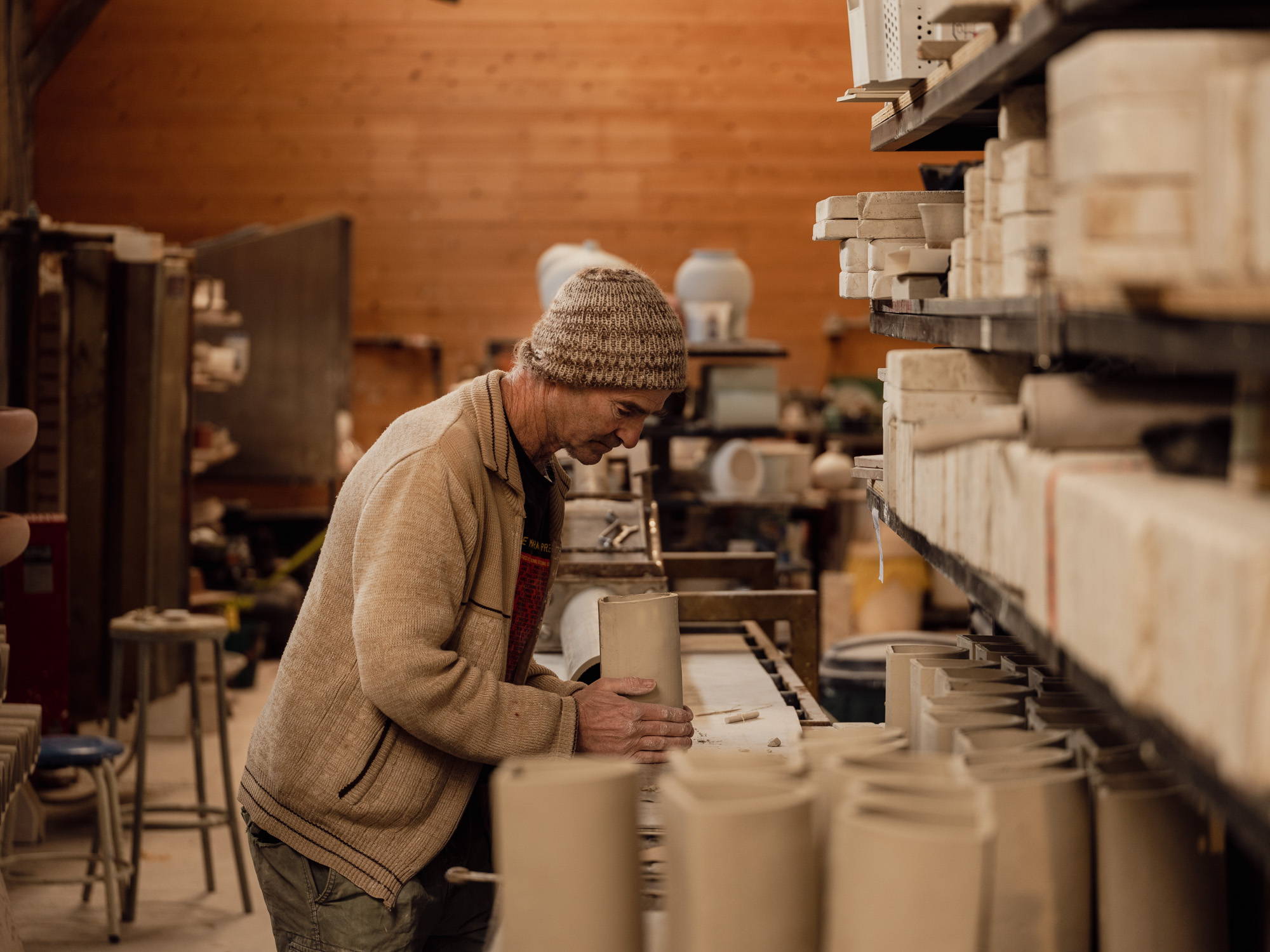 What is the intention behind what you create?
The intention behind We Ponder products is to showcase the skills, care and dedication of Tasmanian craftspeople. We want to nurture and celebrate nature's inconsistencies and create imperfect, perfect products that are irreplaceable. We want to create products that don't go out of fashion or have to be replaced when a space is possibly renovated in 10-15 years' time.
How did you come up with your lighting designs and why?
Our products rely on the importance of understanding and trusting our craftspeople skills, learning from their extensive trial and error and designing pieces that fall within their limitations. We have to work with the very best and dig into every nook of their brain to nurture all facets involved with creating repeatable but always unique designs.

What is the process behind each light fitting?
The making process is quite a story and I have never been quite sure how to emphasise the effort and care that is involved with making each individual piece. So, I thought the best way to communicate this is through a short video, please take a look, we would love to know what you think!
What is inspiring you?
I am not your typical designer, if you sat me down and asked me to rattle off my top 5 favourite designers, you would be met with a blank stare and awkward silence. I have always been the type of person who gains inspiration from menial day to day objects.
A lot of our new designs that are going to be released in 2023 are largely inspired by different ceramics that are laying around Ian Clare's warehouse (our ceramicist). He creates the most insane sculptural pieces and we are always analyzing each piece and figuring out ways to turn them into functional lights.
What is on the horizon for you and We Ponder?
We Ponder finally came to the crossroads of deciding to either stay put and continue the way we are going, or to push our limits and prepare for growth. We decided to grow and Tasmania has proven to be the absolute perfect place to do so. We are currently setting up a dedicated manufacturing facility in Cygnet, just down the end of our ceramicists current workshop space. We are growing our team in Hobart and have been busy working closely with an extremely talented Tasmanian Glass Blower. We have been designing a light that incorporates both ceramics and glass. We love discovering the incredible talent that Tasmanian craftspeople have to offer and are extremely excited to continue to design and produce products that utilize and showcase their work.
---
---