Two Acres Home- Clunes House
Tucked away In the heart of Clunes village, you will find this stunning resort inspired property nestled amongst the rainforest surrounded by tropical gardens on the dreamiest 2 acres of pure wanderlust! . Designed with raw and organic textures this pared-back oasis is one that will have you wanting more and contemplating the inland sea change.
We were lucky enough to dip our toes into the paradise of two acres home and spend some time catching up with Katherine and relishing in her vision and design process in creating this truly magnificent space.
What was your must have piece or feature within the space?
Having relocated from a warehouse apartment in Sydney's inner west, we really wanted to create unique spaces that encourage people to disconnect, change the pace of life and to reconnect with nature and each other. It was important for us to incorporate an indoor/outdoor lifestyle so some of our favourite features within the space are the ones that embrace the natural elements. The large outdoor firepit with reclaimed timber bench seats, along with the indoor open fireplace create a warm, cosy space for people to gather round and share stories. The infinity pool and large sunken cabana, which was created using large, reclaimed wharf beams as the structural posts and salvaged timber roof batons, create a tranquil and cooling escape. The standout structural piece would have to be the 200kg arched, steel courtyard entrance gate, which was hand made by my husband Daniel.
Your key principals when creating your visual story?
Pared back and timeless. Our concept was a minimal, natural aesthetic with pared backed luxury. We wanted to keep it simple but also elevate the mundane, every piece should evoke beauty and curiosity. The energy of a room and how you feel within that space is just as important as the visual aspect so using grounding colours and elements were key principals. Don't follow trends, I collect beautiful objects that I love along the way and trust it will find its place somewhere, let your home reflect who you are and where you have been.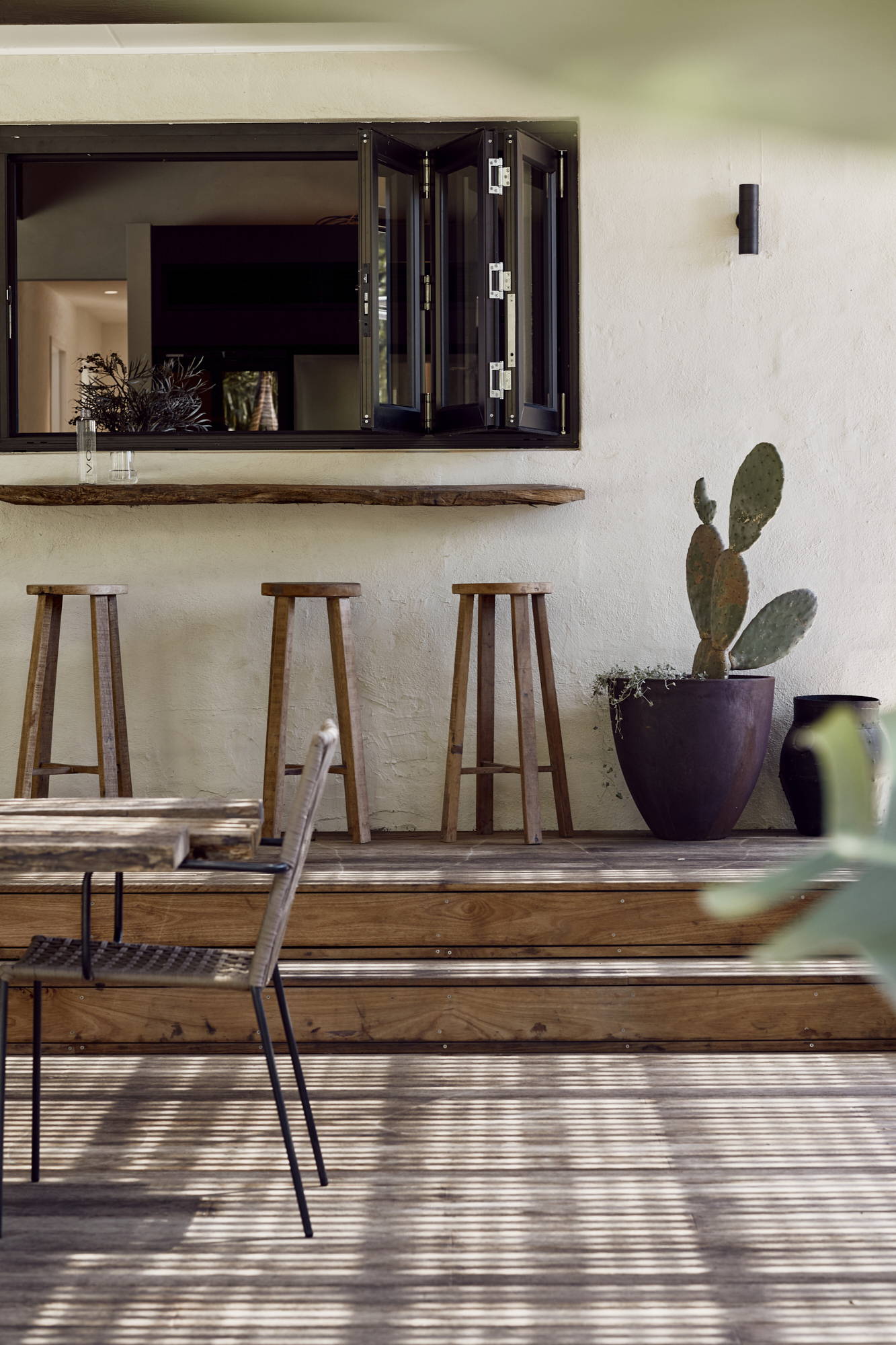 Lighting was one of the most important design elements in
the home for us, good lighting will create and elevate the
whole mood of your space.
How have you used lighting? Why these pieces, what is their purpose? What mood do they help create?
Lighting was one of the most important design elements in the home for us, good lighting will create and elevate the whole mood of your space. As much as I am a lover of art, I wanted to keep the walls as minimal as possible, so lighting had to be the focal point and take centre stage. One of my absolute favourite pieces is the Art Series| Three panelled glass wall light framed along the curved wall in the master bedroom. An art piece in its own form, the unique glass panels represent melting ice and provoke thoughts of being suspended in time. The large hanging iron pendants immediately demand your attention when walking into this room. I couldn't be happier with the way these vastly different lights work in harmony together. Dim and indirect lighting will create a more intimate space that encourages relaxation, so we incorporated this lighting element throughout the home with the option to brighten when necessary.Linear lights hide in inconspicuous spaces, soft bedroom lamps offer a more refined source of light, aged brass light fixtures flow seamlessly with the design on the outside of the home and an abundance of up-lights highlight the towering trees outside.
Favourite lighting collective pieces?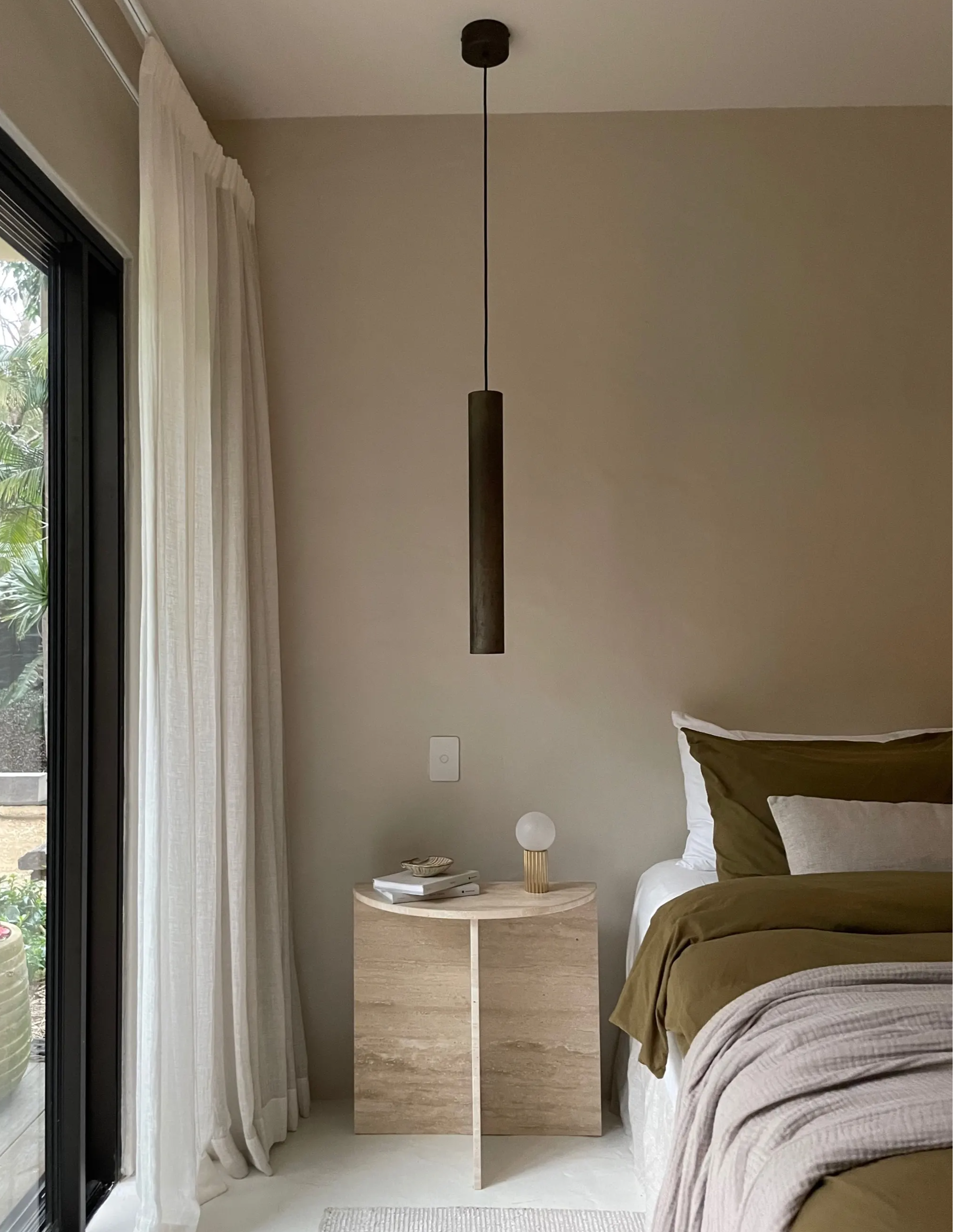 INSTAGRAM Who are you following?
I absolutely adore Athena Calderone from @eyeswoon
"Our main intention when designing the home was to create a home that felt like a retreat and communal spaces that connect family and friends together. I hope people will feel a sense of ease and relaxation, a home away from home that conjures thoughts of tropical places far away. We want our guests to unwind and embrace the barefoot way of slow living, to feel an intimate connection to the natural surrounding beauty."
— Katherine, Two Acres Home
---